Duralite Trailers, LLC
  
DURALITE TRAILERS & FM TRAILER WORLD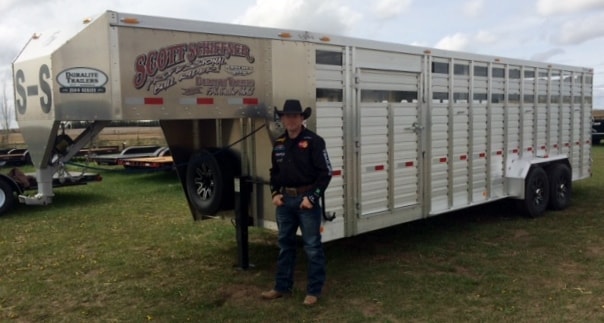 SCOTT SCHIFFNER

Scott is a Champion in everyone's eyes, Canadian Champion Bull Rider, Canadian PBR Champion, Calgary Stampede Champion, and a honorable ambassador for the Ranching & Rodeo World.

Scott and his Family Ranch just outside of Strathmore, Alberta running a mix of cow/calf pairs, yearlings, and young bulls. He is a true Rancher that puts his Duralite Trailer to work when not traveling the Rodeo trail.  Next time you see Scott at a Rodeo, Public Event, Branding, or at your Local Auction Market - ask Scott what makes his Duralite Trailer the trailer that helps a Rancher get the job done!!

ABOUT DURALITE TRAILERS

Duralite Trailers is owned and operated by three farmers and a rancher who all know what it takes to get the job done. They understand your needs and together have put their experience in to building a trailer that will withstand the job it was built and designed for.
Before you buy your next trailer ask yourself this important question; if welding is so strong and lasting, why don't they weld airplanes? These trailers are Riveted Aluminum Livestock Trailers. Duralite Trailers has a proven durability track record for more than 20 years. You won't find any factory direct sales here, and we offer a seven year limited warranty on the structure of the trailer. 
Duralite Trailers are built to be tough!

DURALITE TRAILER SPECS
15' Duralite Bumper Pull http://www.duralitetrailers.com/model-15bp.pdf
20' Duralite Gooseneck Stock http://www.duralitetrailers.com/model-20.pdf
25' Duralite Gooseneck Stock http://www.duralitetrailers.com/model-25.pdf
30'-35' Duralite Gooseneck Stock http://www.duralitetrailers.com/model-30-35.pdf
Duralite Stock Combo http://www.duralitetrailers.com/stock_combo.pdf
Duralite Trailer Weights http://www.duralitetrailers.com/trailer-weights.pdf